The Top Rated Dumpster Rental Eastland TX Can Provide
If you're on the hunt for a dumpster rental Eastland TX counts on for residential or commercial use, trust the local professionals at Big Country Dumpsters to have your back! We understand that managing waste can be a stressful and time-consuming task, which is why we are dedicated to providing hassle-free solutions for our customers. Whether you are a homeowner, contractor, or business owner, we offer a wide range of dumpster sizes to meet your specific needs. Our team is committed to providing prompt and reliable service, ensuring your waste is collected and disposed of efficiently and responsibly.

Whether you're downsizing, sprucing up a rental property, managing a demolition, or clearing out an office park, our team is here to help. We're a locally owned and operated company that our neighbors can count on for the dumpster rental Eastland TX trusts. Whatever your short-term or long-term waste disposal goals are, there's no doubt that we're the top choice to help you achieve your goals in an efficient and affordable manner. With our years of experience and commitment to customer satisfaction, we are confident that we can provide you with the best waste disposal services available.

Big Country Dumpsters professionally delivers a dumpster rental Eastland TX can trust to businesses, construction projects, demolition sites, and residences across the area. We proudly serve Eastland, Texas, and the surrounding area with waste containment and disposal you can count on at a great price. We offer our customers the convenience of online scheduling through our simple and secure system to get them the bin they need when needed. Click the red "Book Now" button, or call us at (325) 762-0154 with any questions regarding our services. Trust us to handle your waste so you can focus on what matters!
We Take Just About Everything
Some examples of the junk we haul away include:
Refrigerator Disposal

Garbage Removal

Mattress Disposal

Foreclosure Clean Outs
Construction Waste Removal

Yard Waste Removal

Trash Removal

Appliance Removal
Television Disposal & Recycling

Furniture Removal

E-Waste Disposal

Hot Tub Disposal
Multiple Uses for a Dumpster Rental Eastland, TX
We have a dumpster rental Eastland, TX trusts for every commercial, construction, home, or yard project. We make waste containment and disposal easy with a roll off dumpster Eastland TX uses for ongoing trash disposal at businesses or construction sites or for a weekend cleanup project at home. You'll appreciate our high-quality service, on-time delivery and pickup, and prices that keep you within your budget. Whatever your reason for needing a dumpster rental Eastland, TX uses to handle debris and trash from a remodeling project, new construction, yard clean up or deck replacement, roofing projects, or ongoing trash service for your business, we have what you need. Our dumpster rentals Eastland TX uses year-round are available at prices and time frames that make sense for your project. All debris is safely transported to the Eastland County Landfill, where it is disposed of in accordance with all city, county, and state regulations. Start scheduling your container by clicking the red "Book Now" button!
Residential Dumpster Rental Eastland TX Homeowners Trust
Take on your home cleanup or remodel with the residential dumpster rental Eastland TX homeowners use the most. When homeowners are looking for an affordable roll off dumpster rental near me Eastland TX counts on, our team will deliver an easy-to-load, driveway-friendly bin that will handle a wide range of residential waste, including clutter, bagged trash, appliances, furniture, carpeting, and more. Don't put off your garage or attic cleanout any longer! Dispose of unwanted items from your property while downsizing or clearing trash from a hoarding situation with ease using our garbage dumpster Eastland TX homeowners trust. Our bins will handle it all, and then our team will transport and dispose of the waste for you. Book online in minutes by clicking "Book Now" today!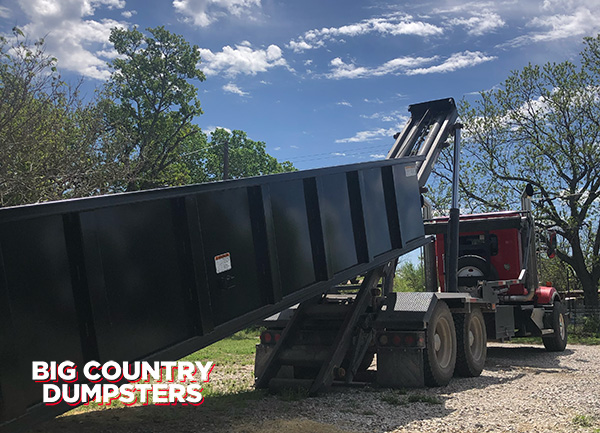 Budget Dumpster Rental Eastland TX Homeowners Use for Yard Waste
Use the budget dumpster rental Eastland TX homeowners depend on to handle bulky yard waste from a variety of sources. Whether your project includes stump removal, trimming trees and shrubs, or garden cleanouts, our easy-to-load containers are the convenient means for disposing of these materials. We provide our customers with affordable dumpster rental prices Eastland TX appreciates for affordable yard maintenance and improvements. Use the 20-yard small dumpster rental Eastland TX relies on for cleaning up yards and landscapes of unwanted or broken grills, playground toys, outdoor furniture, and more today. We make the waste removal process as easy as possible so that you can get back to the task at hand. Book online!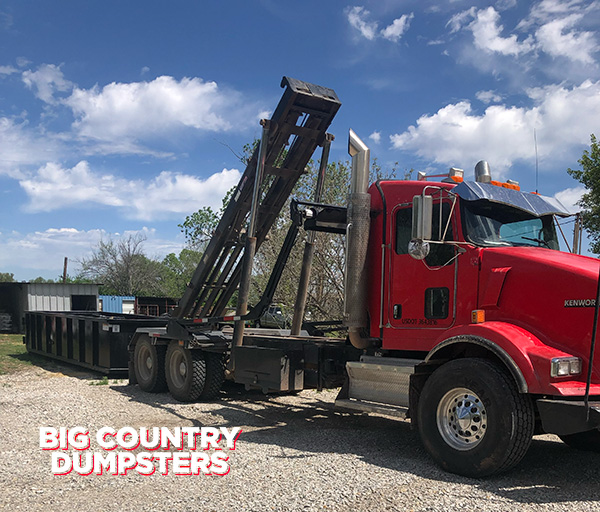 Heavy-Duty Construction Dumpster Rental Eastland TX Contractors Rely On
Use Big Country Dumpsters for dependable construction dumpster rental Eastland TX contractors rely on to maintain a safe and stress-free job site. Area contractors count on our containers to be high-quality bins from leading manufacturers that will handle all of their project debris, and that's what we deliver! A conveniently placed construction dumpster Eastland TX is what project managers rely on to keep their sites safe and running smoothly. Our bins are used to haul away plastic, piping, lumber, shingles, tile, and other construction debris with ease. Our highly qualified staff is responsive to our clients, respecting their schedules and customizing our waste management services to meet their needs. When you're looking for affordable dumpster rentals Eastland TX contractors prefer, give us a call at (325) 762-0154 or simply click on "Book Now" to start scheduling in a matter of minutes.
Roll Off Dumpster Rental Eastland TX Trusts Most for Commercial Use
Keep your operations on schedule and flowing smoothly with our roll off dumpster rental Eastland TX businesses depend on for commercial use. Ensure that your construction site or business stays free from debris and trash by relying on our team for your large dumpster rental Eastland TX counts on for proper and responsible disposal. You'll appreciate how our low dumpster rental cost Eastland TX keeps your budget on track, saving you money, hassle, and time in the process. We provide dependable waste management for local businesses, municipalities, contractors, restaurants, office parks, banks, apartment facilities, and project managers on large-scale developments. Whatever your cleanup, construction, repair, or renovation needs are, we're here to help. As a locally owned and operated business, we care about other agencies, commercial enterprises, and businesses in the area, and we're here to make waste disposal a stress-free and streamlined process so you can focus on more important things.
How To Book a Eastland TX Dumpster Rental Securely Online
Booking a Eastland TX dumpster rental couldn't be easier than with our state-of-the-art online system, available to you 24 hours a day. Start by clicking on the red "Book Now" button and reserve your bin in a matter of minutes!

1) Select from a 20-yard or 40-yard bin, choose either a seven-day or thirty-day rental period, and click "Add To Cart."
2) Choose your rental dates from the calendar pop-up.
3) Verify your selections and click "Checkout."
4) Enter your contact and billing information, dumpster placement information, and a brief description of the type of waste you need to be hauled away.
5) Acknowledge the customer agreement and digitally sign it.
6) Enter your payment information using any major credit card.

That's how easy it is to reserve a Eastland TX dumpster rental for your upcoming disposal needs. You'll receive confirmation and a receipt via email. A member of our team will be in contact a day or two prior to the delivery of your dumpster service near me Eastland TX trusts most to confirm a delivery window that works best for you. Any questions? Don't hesitate to give our team a call at (325) 762-0154!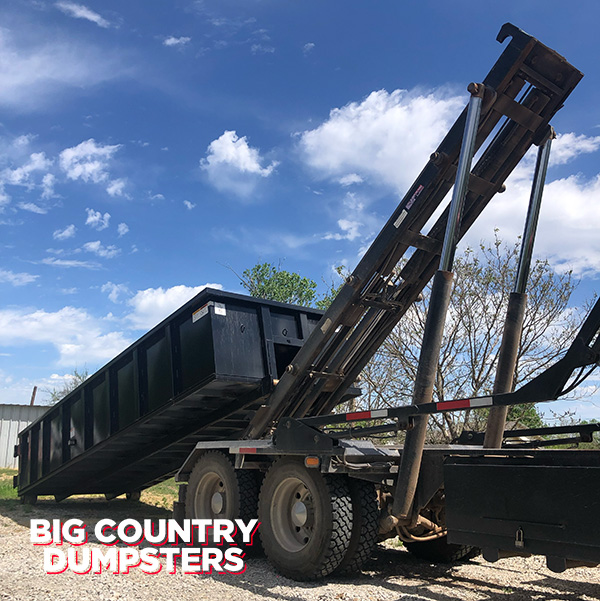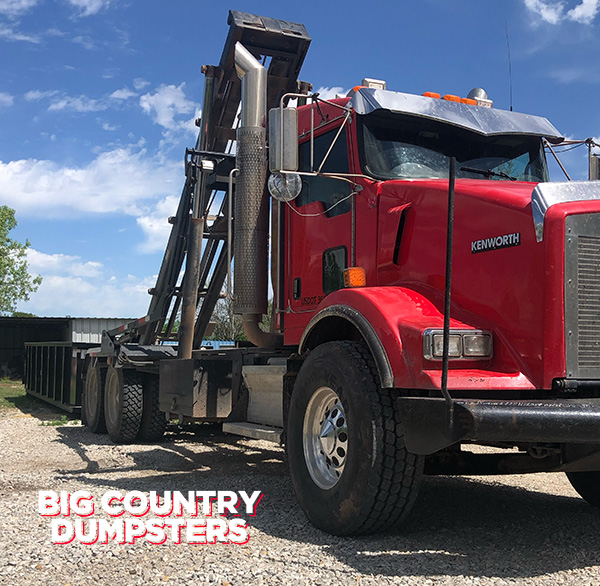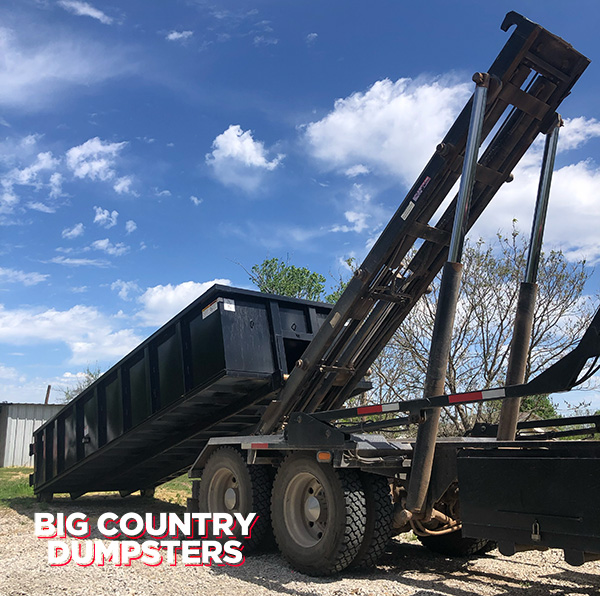 Eastland TX Dumpster Sizes and Prices to Suit Every Project
Big Country Dumpsters has a range of Eastland TX dumpster options in sizes that are ideal for a broad scope of waste disposal projects. We currently offer 20-yard and 40-yard containers, and we're confident these sizes will handle a wide range of cleanouts, renovations, yard debris, and ongoing trash disposal from commercial or residential sources. When you need to rent a dumpster in Eastland TX for your waste management needs, trust our local team to help!

Use the 20 yard dumpster Eastland TX homeowners trust for residential projects inside and outside the home and for construction and roofing jobs of all varieties. Priced at $550 for a seven-day rental period with two tons of disposal included, the 20-yard is ideal for yard waste cleanup, bathroom renovations, attic cleanouts, and more. This bin is also available at $850 for a thirty-day rental period, with two tons of waste disposal included.

Book the 40 yard dumpster Eastland TX contractors, property managers, and business owners trust for heavy-duty projects. This bin safely handles all disposals from construction and demolition jobs, along with your ongoing trash service needs, and is priced at $650 for a seven-day rental period with two tons of included waste disposal. A thirty-day rental is available at $950 for this industrial-sized bin with two tons of included waste disposal.

Choose Big Country Dumpsters when you're looking for a cheap dumpster rental Eastland TX can count on for reliability, safety, and competitive pricing for your upcoming project. You'll find that our budget-friendly pricing on durable, top-quality bins is just the ticket! Schedule a delivery online today with our convenient booking platform.
Book a Dumpster Rental Near Eastland TX and Surrounding Areas
As a locally-owned company, we're proud to partner with other small businesses, commercial enterprises, government offices, and the Eastland Independent School District, and to play a part in keeping the local landmarks like the Majestic Theatre, Eastland County Courthouse, and the Eastland Historic Jail looking their best with our affordable dumpster rentals Eastland TX trusts the most.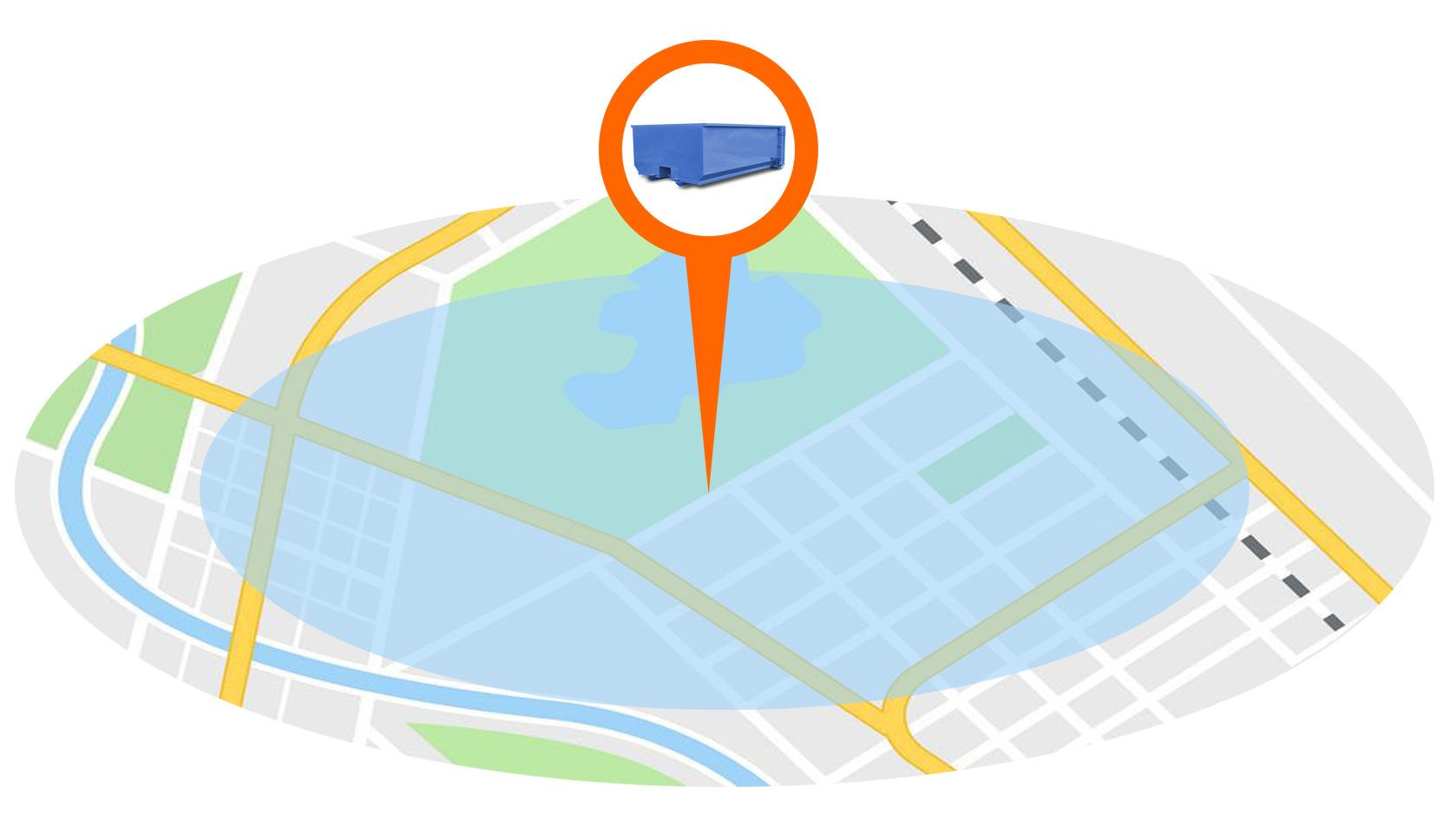 Whether you need a dumpster rental near Eastland TX for residential or commercial use, we've got you covered! We proudly serve zip code 76448 and a wide area of Eastland County. We value our customers and the communities that we serve, including Cisco, Brownwood, Albany, Breckenridge, and Clyde. If you've been on the hunt for the #1 dumpster rental Brownwood TX has to offer, you're in the right place! We provide the best when you're looking for a dumpster rental near me Eastland TX can trust for residential or commercial use. If you don't see your zip code or neighborhood listed, give our team a call to see if accommodations can be made.
View Service Area
FAQs for Dumpster Pickup Services for Eastland, TX
If you have questions about our dumpster pickup services for Eastland, TX, and the surrounding areas, just reach out to our knowledgeable team, and we'll be happy to help! In our years of doing business, we have received many questions about our services, including how much it costs to rent a dumpster in Eastland TX for debris disposal or whether we deliver to your area. Take a look at other FAQs below and get in touch with our team for more information.
Q.
How long can I rent a dumpster?
A.
Our standard rentals are for periods of seven days or thirty days. If those time frames don't meet your needs, contact our team, and we'll be happy to discuss how we can take care of your waste management needs and cater the rental period to meet your specific goals and timeframe.
Q.
How do I modify my dumpster services for Eastland, TX removal date?
A.
We realize that debris disposal estimations can be off or that your plans can change. If you need to keep the dumpster longer or have it removed sooner than planned, give us a call at (325) 762-0154, and we will make adjustments that work.
Q.
What is the best way to load the dumpster?
A.
Load the dumpster efficiently by spreading out the trash as evenly as possible in a flat layer. All debris must be contained within the dumpster, and waste should not exceed the top of the bin. Otherwise, our professional drivers will not be able to haul away the bin from your property or work site.